Setting up a home fitness room that you want to use is easier and more affordable than you think. In fact, your space can be transformed into a place where you can work on strength training, cardio health, and flexibility exercises for significantly less than an annual gym membership. You may even inspire your kids to join you. Read on as we reveal our Blume Group tips for how to set up a fun home fitness room.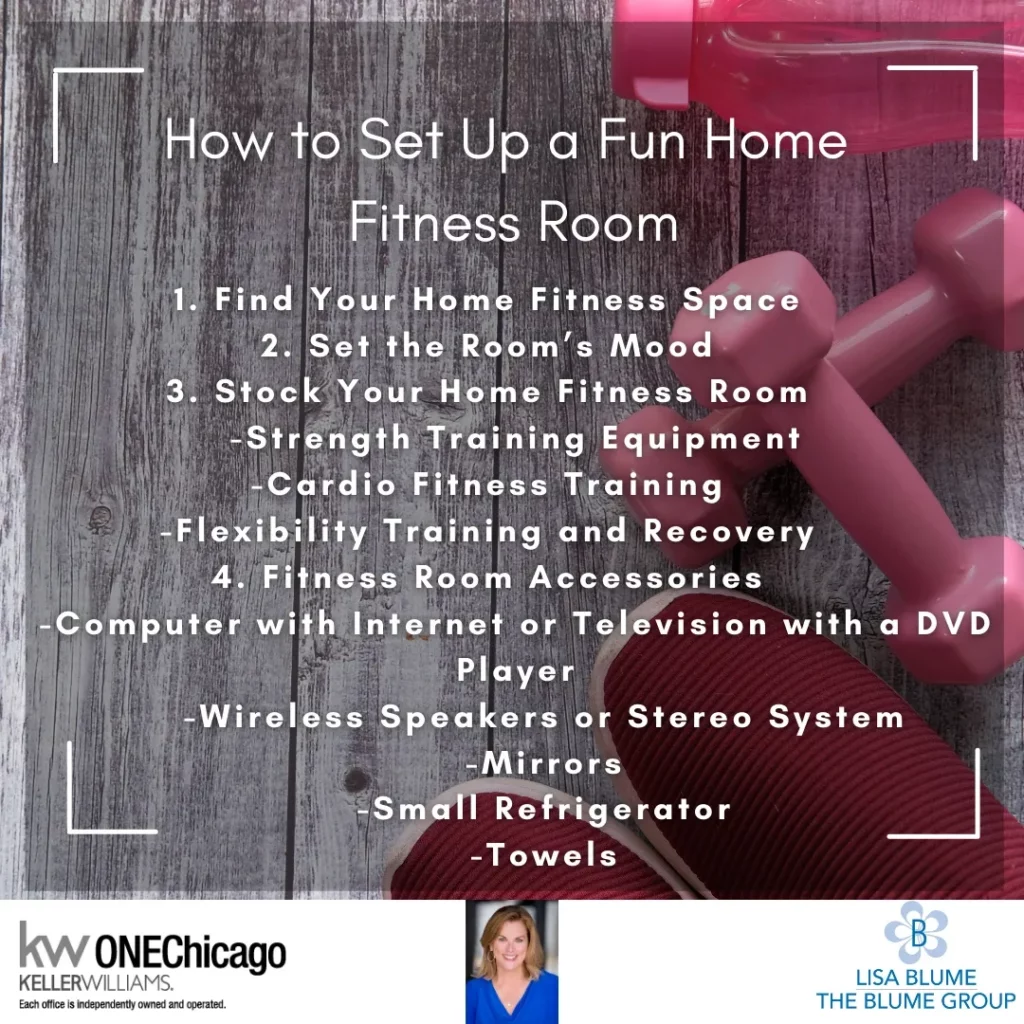 Find Your Home Fitness Space
Whether you want to focus on Pilates core mat workouts or weightlifting exercises, you need to find a space that grants you enough room to move freely. Your spare bedroom or garage may be the perfect place for your new home fitness room. A section of your basement may be right for a home gym transformation, or a free corner in your apartment's bedroom may do the trick. Even a back patio or cleared balcony can be your new fitness oasis if your region's weather allows for year-round, outdoor activities. Once you claim your space, your home fitness room can take shape.
Set the Room's Mood
If you are transforming a spare room, garage, sunroom, or large balcony into a home fitness room, you will want to create a mood that inspires you. You want the space to be a place that beckons, and you can do that by painting the walls (and sometimes ceilings) vibrant or soothing colors. There is no doubt that the color of your space can have a significant impact on your emotions. If you find peace in painting the walls Benjamin Moore's Aegean Teal (the Color of the Year, no less), or another calming, eco-friendly or vegan paint, start exploring their color palettes online. Want something that is fun and energizing for you and your family? Bright primary colors are a big hit with kids and anyone looking for a little extra spark to start their fitness routine. Designs, decals of the kids' favorite cartoon characters, and motivational yet humorous sayings stenciled on the walls are all approaches to making your home fitness room fun and inspiring.
Are you taking over a small section of the basement, living room, or bedroom? Don't be afraid to create a colorful fitness zone, even when sharing a room. You can use a paint shade that works well with the existing décor that clearly delineates this area for another purpose. Stenciled wall art and patterned wallpaper can also work to create your new fitness "room."
Stock Your Home Fitness Room
As the experts at Shape explain: "You don't need a ton of equipment or bulky machines to make your home gym an effective place to exercise." Think about what your goals are. Are you going to focus on strengthening exercises or cardio (or a combination of them both)? Are you trying to introduce your young children to a fitness routine that will be both fun and physically challenging? What do you need to keep motivated? Now think about your budget and the size of your fitness space, and start to stock the room with what you need to achieve your goals.
Strength Training
If you have the budget and the space, you might want to investigate the modern strength training equipment from places like NordicTrack or cable machines from Nautilus. But they aren't necessary for you to get a solid, strength-focused workout. If you need something smaller and more affordable, Shape recommends that you "invest in a single kettlebell, a pair of adjustable dumbbells, [and/or] an entire set of dumbbells…, which give you the same muscle toning without the bulky storage concerns."
The editors at Real Simple are fans of adding a curl bar and dumbbell handle apparatus to your home fitness setup. Why? The Magazine explains that "[curl] bars allow you to strengthen your chest, back, and shoulders with greater weight, and the angled bar helps reduce stress on your joints," while "[dumbbells] are also a home gym essential, since you can work more specific muscles with a variety of exercises." The set's affordability also gets high-marks, as you can purchase it at shops like Dick's Sporting Goods for around $30.
Want something even easier to store? Resistance bands are fully portable and can be stored easily in a spare drawer or under-bed container. The editors at Health rave about the "Black Mountain Products Resistance Band Set." This affordable "pack includes a door anchor, soft grip handles, exercise chart, carrying bag, ankle strap, and starter guide." The Magazine is also a fan of the "WOSS Attack Trainer" which "allows you to use your own body weight to strengthen your entire body for a fraction of the cost of more advanced trainers. The harness can easily be hooked to a door with an included built-in anchor."
Want to use what you may already have at home? Turn to sealed water jugs or laundry detergent bottles, according to American Ninja Warrior Angela Gargano. In an interview with Shape, Gargano suggests using the jugs because they are not only a "great way to 'utilize what you have'" but a quick way to quickly add intensity to "goblet squats, water jug swings, and kneeling single-arm overhead presses."
Cardio Fitness Training
Does the sight of the Peloton bike fill you with gleeful motivation to get your morning heart-rate up? Provided you have the space and the budget to accommodate the expensive system, you'll love unleashing your potential with their training programs. But that expense is not necessary to get a terrific cardio workout. In fact, one of Real Simple's favorite cardio workouts incorporates a playground favorite: the jump rope. The Magazine reveals: "Jump rope exercise is a great way to get your heart pumping, and you can do it pretty much anywhere." This inexpensive piece of home fitness equipment is available in standard lengths, as well as one that is height-adjustable so every member of the family can use it. And, of course, jump ropes designed for kids often feature their favorite cartoon characters on the handles for a bit of extra fun.
Want to increase the intensity of your jump rope workout? Personal trainer and host of podcast All About Fitness, Pete McCall, suggested to Shape that "to crank up the intensity, [you should] use a weighted jump rope, which is a little bit heavier to turn, so your wrists and forearms will be working harder to keep it rotating."
Do you have your heart set on a treadmill but have concerns about keeping it out in a shared room? The editors at Real Simple recommend a folding treadmill that is available through online retailers for under $300. The folding model allows for easy storage but still provides a serious workout. Fitness professionals recommend trying a "15-minute interval workout on your new [folding] treadmill to burn more calories and build endurance."
Flexibility Training and Recovery
As the fitness experts at Real Simple explain, "a quality exercise mat is a must for ab workouts, stretching, and yoga." It's also a crucial equipment piece for recovery after a hard workout – nothing feels better than slowing your breathing and stretching sore muscles than assuming "child's pose" on a comfortable mat. Large cushioned mats can take up significant space, but many high-quality mats have eyelets that make hanging them up on a wall an easy storage solution. And, of course, vibrantly colored yoga mats can be rolled up quickly and stored under beds, in closets, or wicker baskets in the corner of your home fitness room.
Searching for other fitness recovery tools that can double as exercise accessories? Fitness expert Ellen Barrett tells Shape that she "loves foam rollers because they're so versatile — you can use them for 'kneading' out muscles, strengthening your core, or as a prop for yoga poses."
Fitness Room Accessories
Don't forget the accessories! Now that you've narrowed down the equipment you want to incorporate into your home fitness room, it is time to move in some basic accessories that will improve the space's functionality and add a dash of fun at the same time.
Computer with Internet or Television with a DVD Player
Unless you have a well-worn routine that you love, you will want to follow along with DVDs or online videos appropriate for your skill level. With a strong Wi-Fi connection, you can take "live" classes on Zoom with fitness instructors who are broadcasting their sessions online during the COVID pandemic. If you want to have one-on-one instruction, make sure your computer's camera is working, and check with your favorite fitness trainer to see if they offer virtual training.
If your schedule doesn't match up with zoom classes, YouTube has a terrific library filled with videos for every skill level that can work in even the smallest home fitness rooms. Parents recently compiled a list of the best exercise videos to do with kids. The list is full of "fun free workout videos recommended by family fitness experts [that] are a great way to blow off steam inside." In addition to the physical benefits, working out with your kids can be a "powerful mood-booster, it generates play and silliness for everyone and if you can shift your expectations from it being about your own deep workout time, to a family activity, … everyone gets to move and release pent up energy," reveals fitness expert Rachel Welch in an interview with Parents. And while any screen will do, hanging up a flat-screen, Internet-enabled television will make it easier for the entire family to follow along with the video fitness instructors.
Wireless Speakers or Stereo System
If you want a space that is screen-free, be sure to find a way to pipe in energizing tunes or soothing sounds into your fitness room. Even if you just want the calming sounds of rain or chimes, the sounds will help you keep your focus inside the room and away from potential outside distractions.
Mirrors
If possible, add at least one full-length mirror to your home fitness setup. Is your room on the small side? Shape advises that mirrors can "help to open up a space, making it appear larger than it actually is, which may help you feel less cramped in a smaller home gym." Mirrors allow you to check your form as you complete your exercises. From Bar Method to Pilates to weightlifting, quick glances in a mirror can help you avoid injury and get the most out of each movement. Do you have something extra in your budget for a splurge? "The Mirror" is turning heads. It hangs and looks just like a mirror when not active, but it actually allows you to stream exciting workouts through it.
Small Refrigerator
If your home fitness room is in a fully converted garage, spare bedroom, or large patio, consider putting in a small refrigerator to keep water and energy drinks cool. It's not necessary, but it will help keep you focused and in your workout space instead of potentially getting distracted by a trip to the kitchen.
Towels
If your workout space is carved out of another living or bedroom area, you don't have to worry about creating a space for towels. However, if you are in a completely transformed, separate room, consider putting up a rack, installing hooks, or setting up a basket for clean towels. It's a nice luxury that makes your home fitness room feel truly complete.
Article Pulled From Better Homes and Gardens Real Estate