Home decor trends are always changing, but when it comes to 2022—a new year on the tails of some pretty challenging times
Next year's trends highlight the beauty of the symmetrical, uneven, or unbalanced things. "This trend is all about seeing flaws as an asset or something that makes each piece unique," she shares, "It appreciates the effects of time, and the humble beauty found in things that are impermanent old, worn, or incomplete."
And isn't this a sigh of relief? After a particularly challenging year, this trend is a reminder for both our spaces and ourselves—we don't have to have it all together all the time.
So, without further ado, here are the perfectly imperfect 2022 home decor trends designers are most excited about.
1. Neutral & Natural Shades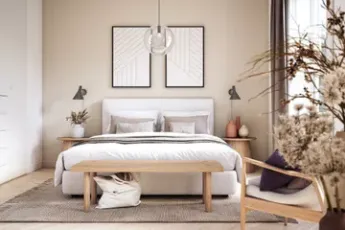 Here's the thing, neutral and natural colors never go out of style. But we're expecting to see even more of these shades in the new year. Think gray, beige, white, and brown with warm or rich undertones as wall paint colors. Natural earth colors are also trending as people desire for Zen-like feeling at home, so we'll see more green shades. After a year (and more) of living and working at home, we're more inclined to create a peaceful environment. This naturally lends itself to neutral tones.
2. Green & Pink Accents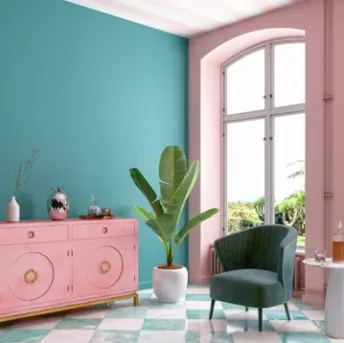 On the other hand, there's still room for color. " 2022 is all about greens and pinks—in a way you've never seen them before. Think [deeper], jewel-toned greens and rooted, terracotta pinks," says M+A Architects Interior Designer Abbey Hunter. "Considering color psychology and human behavioral needs as we shift to endemic living, it all makes sense—these hues of green are soothing and signal safety to the brain, while the deep pinks in muted palettes radiates warmth and comfort—all meeting the basic needs we are starving for post-pandemic."
4. Curved Furniture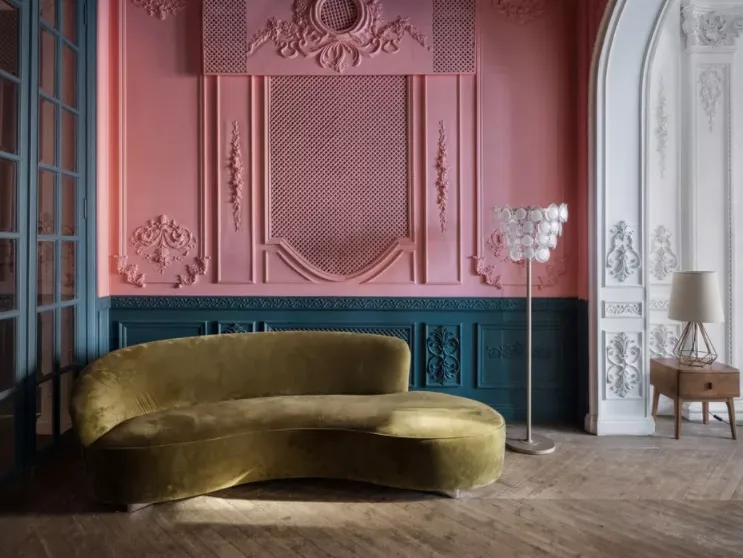 What is curved furniture? Well, according to the experts, it's the latest trend taking over furniture as we head into 2022.
"The curved furniture trend took off this past year, reviving a timeless mid-century trend that dates back to the '60s and '70s," shares Franklin. "We don't see it going away anytime soon, and in fact, we think more people will begin leaning into the idea of curvy pieces—whether it be with mirrors, kitchen islands, or statement furniture such as barrel back chairs."
5. Sustainable Materials
"Eco-friendly materials will be more popular than ever before," shares Yoselin Castro, Senior Interior Designer at Mackenzie Collier Interiors. "People are seeing the advantages of integrating energy-efficient products in their spaces as a way to reduce heating and lighting needs."Especially now, there is even more of a focus on sustainability—in furniture, in products, in lighting, and in how we design our spaces."Materials that are reclaimed, recycled, and ethically sourced will gain more attention through the years," continues Castro, "[And] especially as the younger generations who have been heavily involved in the sustainability movement begin to buy and renovate homes for themselves."
6. Luxurious Textiles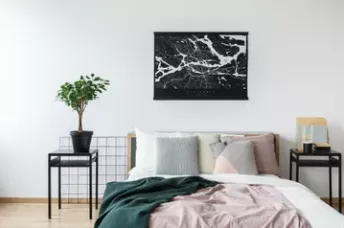 To balance the neutral and warm tones in rooms, the trend of adding textiles will help to a more elegant feel.
"In addition to warm colors, beautiful textiles will be a staple in adding in color, texture, and depth to a space," says Franklin. "Although monochromatic white designs are not out of style, we are certainly seeing a draw for those warmer, rich colors that textiles bring into a space."
This can be done simply with layering different fabrics (on a bed, for example), or using different materials as accents.
"One of our favorite ways to embrace this trend is with natural elements like linen in earth tones, or with fabric patterns that offer pops of rich color on a neutral background," says Franklin. "Don't be surprised to see some of your grandma's favorites prints and fabrics coming back, such as velvet."
7. Vintage Is Making a Comeback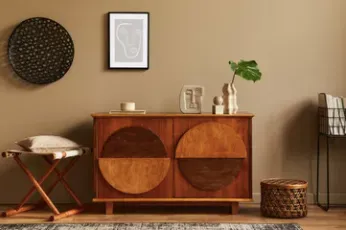 Your grandparents' fabrics aren't the only item coming back in 2022. According to experts, vintage furniture is shifting to fully 'in' this new year. "Vintage pieces of furniture will make a comeback as the design world begins to look toward more sustainable options to decorate a home," shares Castro. "Shopping from sustainable and ethical retailers that provide higher quality products will allow us to keep our furniture for longer and will stay in good shape, which is ultimately more financially responsible and mindful of the environment." So, where can you find these unique, statement pieces? Try thrift stores, flea markets, repurposed furniture stores (online or in-store), or scour your local resale sites like Goodwill, Craigslist, or even Facebook Marketplace.
8. Multifunctional Spaces & Furniture
One of the 2022 home decor trends designers are most excited about is the focus on multifunctional—spaces, furniture, rooms, and items. "Multifunctional spaces are coming in hot in 2022 and are most likely here to stay," says Castro. Being at home for months on end, she says "allowed many people (especially those design enthusiasts) to realize how they use each space in their home and the better functions they could be introducing in a single room."
In fact, many people—homeowners and designers alike—are reconsidering how spaces are designed and what it really means to be multifunctional. Briana Ellis Hoag, AIA, Founder of Ritual Architecture, shares her perspective: "I think what's changing in home design is a more balanced approach to remodeling and expanding to meet your family's needs," she says. "Last year it was carving out home offices and home study areas. This year, I think while that is still important, it's more of a bigger picture consideration of how we can make our homes more of an oasis where we WANT to spend more time there, even if we don't NEED to as much these days." In addition to the idea of multifunctional comes the focus on statement pieces and furniture that serves more than one purpose—especially if you rent or live in a smaller space. "For those living in smaller spaces, furniture that offers multiple functions is ideal," shares Katie Simpson, Senior Interior Designer at Mackenzie Collier Interiors. "Quality multifunctional furniture provides versatility as it can adapt to many living situations whether you are downsizing or already have a small floor plan."
By Marisa Donnelly for The Spruce, 11/17/21
For more tips, check out the original article HERE
And for more information, please contact us here.