Mirrors feature the perfect blend of style and function. While they serve a decorative purpose, they're also essential for putting the finishing touches on your look before you head out the door. Plus, they have the ability to make a small space feel larger and a dark room appear lighter. Curious about the best placement for a mirror in your home? We checked in with experts to find out the top do's and don'ts of hanging a mirror.
BEFORE YOU START
Consider lighting. According to professional organizer Melanie Fowler of Clos-ette, the lighting in your room should inform exactly where to place a mirror. "The position is not just important—the light around a mirror is essential, too," Fowler says. "For someone who wants to see 'the truth,' natural light is best so consider hanging a mirror by a window."
Tilting works in certain cases. "I'd only tilt it if there isn't enough space or runway for a full-length mirror," Fowler says. Robert A. Downs of iLevelArt.com in Los Angeles agrees that not all mirrors are intended to be hung. "Some are designed to be leaners," explains Downs, who has expertly hung mirrors and artwork for stars and design stores ranging from Heidi Klum and Ginnifer Goodwin to Grace Home Furnishings. "For these pieces, it's noted on the back, and if you do hang it and it breaks, a manufacturer's liability won't cover it."
A cable wire hung across a single hook or nail is out of the question when it comes to safely hanging a mirror. Instead, Downs explains that each "D hook" on the back of the mirror needs its own hook in the wall.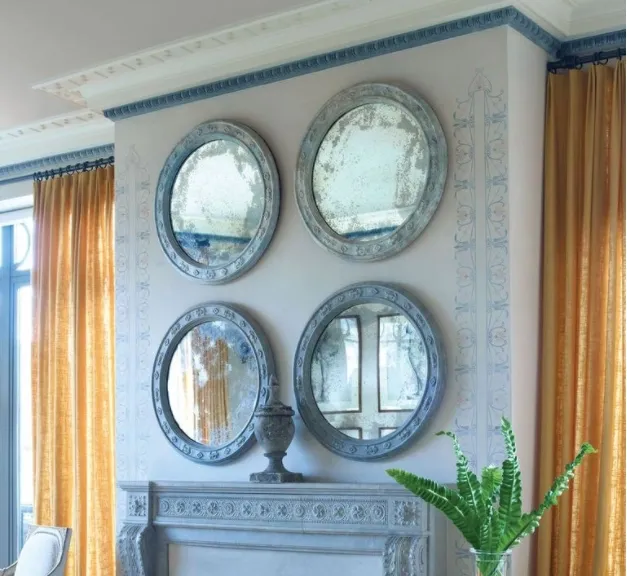 HOW TO HANG A MIRROR…
In an entryway: The foyer is the first impression guests have of your aesthetic. Placing a mirror directly above a console table adds a welcoming touch to your space in an instant. Plus, it's the perfect opportunity to have one final look before heading out the door.
Above the mantel: Position it at least 4-5 inches above the top of the mantel. "But depending on the thickness of the frame, you may want to go higher so you don't get a dark shadow cast on your decor," notes Downs.
In the bathroom: While many bathroom sinks will come with frameless mirrors mounted on the wall with adhesive, Downs recommends bringing in a professional to add a frame around that mirror for added visual interest. (A less expensive option than breaking the mirror off the wall and starting from scratch!)
Over difficult surfaces: "Make sure to pick up special drill bits made exclusively for tile, glass, or concrete," advises Downs. Then resume hanging with appropriate hardware as if you were hanging on drywall.
On the door: Choose a full-length mirror and position it so it takes up as much of the door as possible. Mirror clips are an easy way to execute this, but Downs recommends confirming that you have a solid core door to work with so hardware will fasten in properly.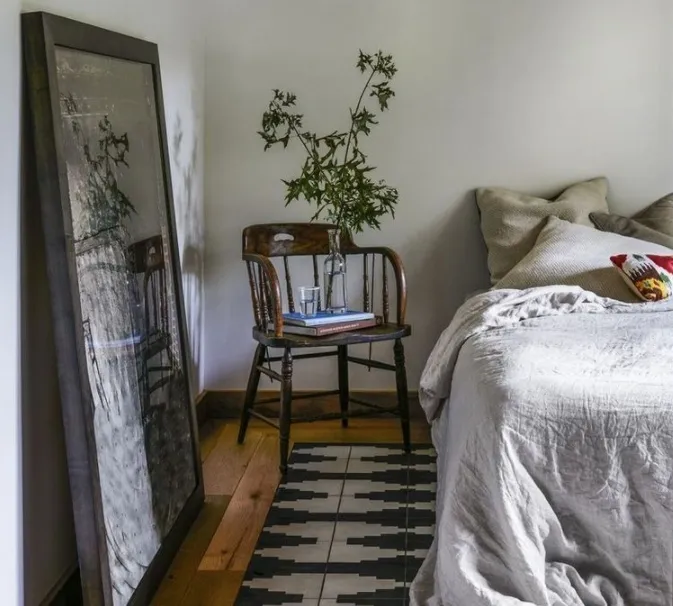 WHERE TO HANG A MIRROR
In a living room with southern exposure, you'll want to make the most of cozy afternoon light, so place the mirror on the wall opposite the window, advises Going. If it's a bedroom, or somewhere you want to capitalize on morning light, try the adjacent window.
The dining room is one of the most popular spaces for dramatic mirrors, especially if there's a beautiful chandelier to reflect. But, be mindful. "If it's a chandelier with an exposed bulb, the reflection can be glaring. Instead, try an antiqued mirror to diffuse it," says Going.
Both Going and Downs agree that an entry hall is one of the best places in the house for a mirror. "Not only is it a beautiful accent, it's a tool to make a space look larger and brighter," she says.
TIPS AND TRICKS
Adhere to your decorating style. If your style is more modern, overlook a rustic, wood frame and opt for a metal design with a sleek frame. Your aesthetic still matters when it comes to choosing the right style (and color) mirror for your home.
Try a grouping. Hanging a group of mirrors on a wall is an easy way to add character to a space. Just make sure to hang them in the same manner as artwork, where proportion is taken into consideration. Having equal space between each mirror is key.
Tall rooms benefit from vertical mirrors, while long rooms do better with a horizontally-set mirror, advises Downs.
Think twice before installing a mirror on anything that has a lot of movement, says Downs. Another risky place that you shouldn't try on your own: Above the bed. If you're considering that, you should hire a pro to get the job done safely.
A bold move deserves bold execution: Downs often works with designers or clients to put a mirror over another mirror, accomplishing the idea by installing the front-most mirror on a cable system that can then be wrapped in rope, or other decorative materials.
By Monique Valeris and Amy Preiser for Elle Decor, 2/14/2020
Original Article HERE
For more information, please contact us here.