Ah, the telltale signs of spring: trees in bloom, slightly warmer weather, allergies flaring—and a long list of chores to tackle around the house. Before you pause to savor the sunnier days, it's important to make sure your home is ready for the season. Here are the home maintenance tasks experts say you shouldn't procrastinate On.
1. Check for leaks and water damage
Between winter storms and spring showers, this is a key time to check for water damage around your home and prevent small leaks from growing into major headaches.
DIY: Walk around the house, and check the rubber seals or metal flashings around vents, flues, and chimneys.
"When these seals begin to crack or rust, water will start to seep into the home," says Craig Gjelsten, vice president of operations at Rainbow International Restoration. "If this issue isn't resolved right away, you may experience mold and water damage throughout the home."
You should also check window seals to see if any need to be replaced.
"Dampness around the edges of windows or on window ledges and cracking are signs that window seals may be deteriorating," says Jason Metzger, senior vice president and head of risk management at PURE Insurance.
Call in the pros: If you catch a leak, it's a good idea to call in reinforcements.
"Contact a professional and have them inspect and fix any cracked materials around the chimney or outside vents," Gjelsten says. The cost of a standard chimney inspection starts around $100.
If your windows are still under warranty, you should be able to get busted seals fixed for free. Otherwise, you may be better off buying a replacement window, which runs from $175 to $650.
2. Spruce up the yard
Now is the time to tend to your outdoor space, including any trees or foliage that are looming a little too close to the house or power lines. These trees can pose risks, including "infestation of bugs [and] foundation issues from the tree roots getting too close to the house and becoming a fire hazard," Gjelsten says.
Plus, if you live in an area prone to hurricanes or tornadoes, heavy winds could bring a tree down, which is dangerous if it gets close to the house.
DIY: Pick a pleasant day, head outside, and get to work.
"Clean up the yard, and get rid of any dried-up bushes or dead plants, as those could be a fire hazard down the road," Gjelsten says.
Call in the pros: While it's perfectly safe to take on some pruning, more extreme tree maintenance is best left to the pros.
Quotes range across the country and depend on the number of trees you need to trim, Gjelsten says. They begin at around $200 on the low end.
This is also a good time to schedule an annual tree inspection with a certified arborist. An initial consultation might be free or could run $80 to $150.
"They can identify both hidden and visible health issues and weaknesses that could make a tree more vulnerable to the strong winds or excessive rains of spring and summer storms," Metzger says.
3. Deep-clean your carpeting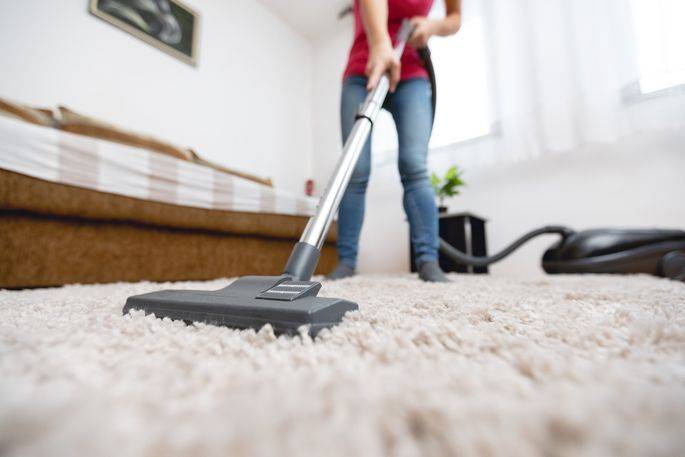 Between the coronavirus pandemic and harsh winter storms across the country, most of us have been staying inside more than ever––and all that time indoors is taking a toll on the carpet.
"Deep-cleaning your carpets is a home maintenance task that might be more popular this year than others, with homes doubling as classrooms, offices, and rec rooms for an entire year now," Gjelsten says.
DIY: Any homeowner can handle a simple spot clean. Just "be sure to pretest your cleaning solution in an inconspicuous location and allow it to dry to test for colorfastness before using it on the rest of the carpet," Gjelsten says.
Call in the pros: For a big job, Gjelsten suggests hiring professionals rather than renting a carpet cleaning machine from the hardware store.
"By the time you purchase the cleaning solutions, this entire process would have cost you more money and time than what you originally thought."
Plus, portable machines aren't as powerful as professional equipment.
The cost to hire carpet cleaners depends on the size of the space and starts at around $100, Gjelsten says.
4. Check on your sump pump
April showers bring May flowers—and flooding, if your sump pump fails.
"It's easy for sump pumps to fail during severe storms, so it's crucial to test yours quarterly to check for any concerns or backup," Metzger says.
DIY: Keep your sump pump clean and free of debris to keep it working properly.
"You may want to consider connecting it to a backup power source or installing an alarm to prevent emergencies," Metzger adds.
Call in the pros: When the sump pump stops working, homeowners often find out the hard way when they discover moisture in the basement. Watch for signs of a sump pump in disrepair, and call in a pro if you notice anything unusual, Repair costs typically run about $300 to $700, according to HomeAdvisor.
5. Flush your water heater
Don't take your long, hot showers for granted.
"If you have not been flushing your water heater yearly, now is a great time to start," says Mike Mushinski, president of bluefrog Plumbing + Drain. "The liner in your tank expands and contracts, especially during the winter, if it is in an area that is not insulated. This expansion and contraction can cause sediment to break free."
Over time, gunk builds up in the water heater, and you need to flush it out periodically to keep it running smoothly.
DIY: Handy homeowners can tackle this task on their own within a few hours. Online tutorials outline everything you'll need, from a bucket to a shop vacuum.
Call in the pros: If you don't have the equipment (or you just don't want to get up close and personal with the gunk that's been built up in your water heater), you can hire a plumber to handle it for about $100.
6. Replace fire extinguishers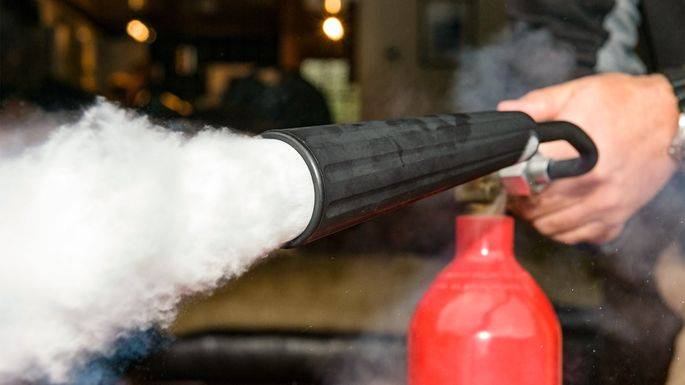 Spring is a good time to check the fire extinguisher(s) in your house.
"It is recommended that fire extinguishers are replaced every 10 to 15 years, as they tend to lose their charge," Gjelsten says.
DIY: This is a task any homeowners can accomplish on their own. Check the tag that shows the last time the extinguisher received maintenance, and inspect the gauge to make sure it's in the green.
"The pin should also pop back up when pushed down, to signal that the extinguisher still has the right amount of pressure, should you need to use it," Gjelsten says.
Lauren Sieben is a writer in Milwaukee. Her work has appeared in the Guardian, Washington Post, Milwaukee Magazine, and other outlets.
Hot water pipe insulation Receive up to six feet of hot water pipe with insulation. Certain restrictions apply.
Have any additional questions give us a call!