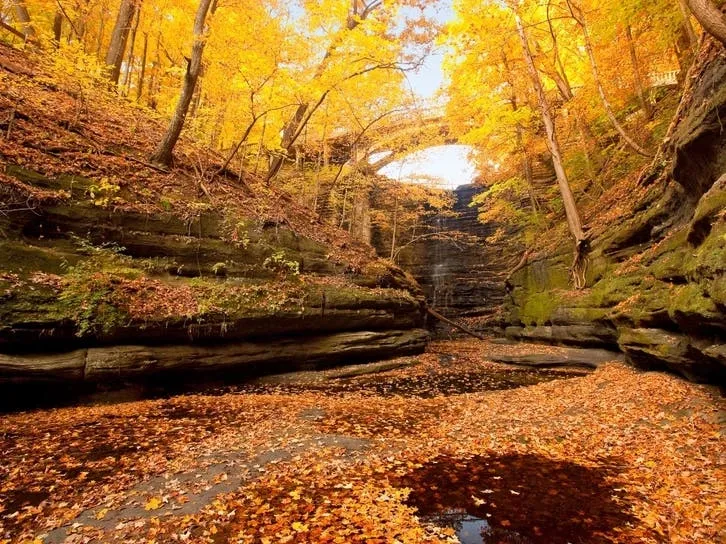 ILLINOIS — The autumnal equinox is still about a month away on the calendar, but it's not too early to start planning a fall leaf peering tour in Illinois using the 2021 Fall Foliage Prediction Map. In Illinois, the weeks of Oct. 26 and Nov. 2 look good for a fall leaf viewing trip, depending on what part of the state you hit. Most of northern Illinois will be at peak or near-peak fall foliage viewing the week of Oct. 26. Central Illinois should hit peak fall foliage the week of Nov. 9, and Southern Illinois, Nov. 16 — but by then, the rest of the state will be past its peak.
No predictive tool is 100 percent accurate, but using the interactive map released Tuesday can give you a pretty good shot at seeing autumn leaves when they turn their most blazing reds, vibrant orange and sunny yellows.
Some of the top places to see fall leaves in Illinois to consider:
David Angotti, an expert on statistics who lives in Tennessee, was in the property management business a decade ago when he created the first Fall Foliage Prediction Map to help visitors plan their Great Smoky Mountains vacations when autumn leaves are the most brilliant.
The tool has developed as a fall vacation planning essential. Last year alone, it received more than 5 million views on SmokyMountains.com and about 30 million more on the news websites, including Patch.
Most people use the leaf map to simply check when foliage will peak near their homes, or to plan a leaf peeping trip.
"However, through the years, we have heard some fascinating stories about how the tool was leveraged," Angotti said in a news release. "Some of our favorites include a bride in the Northeast changing the date of her outdoor wedding, a director scheduling a movie shoot on location based on our predictions and even a grade school teacher planning a trip to a nearby forest."
In general, leaves are likely to peak later than usual this year because of prolonged drought conditions across a large swath of the United States, Angotti told Patch. In affected states, leaves may turn from green to brown and skip the brilliant color wheel before "giving up" and falling to the ground, Angotti told Patch.
There's more than shorter days, longer nights and falling temperatures to signal to trees that it's time to prepare for winter. The predictive map uses a complex algorithm that analyzes several million data points and spits out about 50,000 predictive data pieces.
This allows for a county-by-county forecast on the precise day the peak should occur. This year, the formula will get a midseason update in late September that will pull in the latest data to increase the accuracy and usefulness of the tool.
The major factors that determine the fall foliage peak are sunlight, precipitation, soil moisture and temperature. They come from a variety of sources including historical precipitation, National Oceanic and Atmospheric Administration precipitation forecasts, elevation, actual temperatures, temperature forecasts and average daylight exposure to develop each county's fall baseline date.
What Causes The Different Colors
You probably remember from science class that the color change all starts with photosynthesis. Leaves constantly churn out chlorophyll — a key component in a plant's ability to turn sunlight into the glucose it needs to thrive — from spring through early fall. Those cells saturate the leaves, making them appear green to the human eye.
But leaves aren't green at all. Autumn is the time for leaves' big reveal: their true color, unveiled as chlorophyll production grinds to a halt. The colors in fall's breathtaking tapestry are influenced by other compounds, according to the national park's website.
Beta carotene, the same pigment that makes carrots orange, reflects the yellow and red light from the sun and gives leaves an orange hue.
The production of anthocyanin, which gives leaves their vivid red color, ramps up in the fall, protecting and prolonging the leaf's life on a tree throughout autumn.
And those yellows that make you feel as if you're walking in a ray of sunshine?
They're produced by flavonol, which is part of the flavonoid protein family. It's always present in leaves, but doesn't show itself until chlorophyll production begins to slow.
Original Article Here
By Shannon Antinori for Patch,8/25/2021
For more information, contact us here.