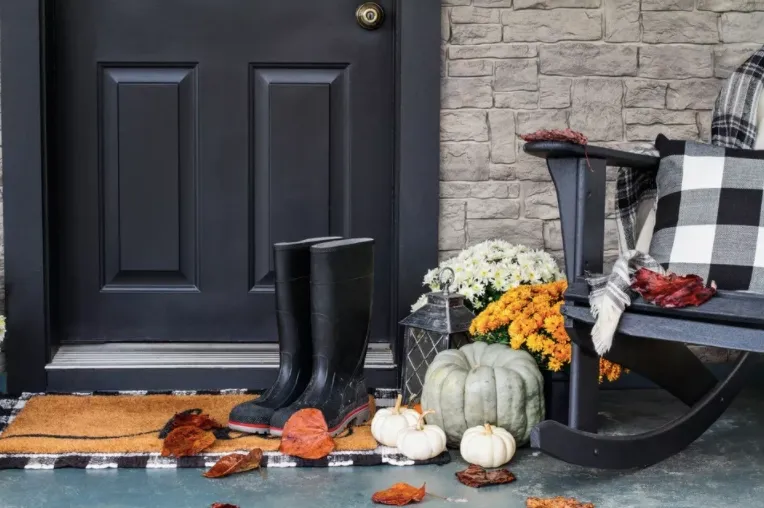 Get cozy outside, even when the temperatures dip. You won't want to go inside when you set the stage for an enjoyable autumn afternoon or evening outdoors. Round up a mesmerizing fire pit, pillows in spicy colors, containers of chrysanthemums, and pumpkins of every size, then celebrate the crisp, cool weather. Check out these fall decorating ideas that can help you put your best fall foot forward.
1. Festive Outdoor Decor
Turn to the familiar symbols of the season: haystacks, pumpkins, gourds, scarecrows, fall-blooming flowers, succulents, black plants, ornamental grasses, and ​Halloween props. Or go simple with a wreath on the door and a bright orange pumpkin on the front steps. Add to the harvest by growing plants that thrive in the fall, like ornamental and native grasses in reds, bronzes, and deep purples or in striking color combinations like chartreuse/lime green and plum or purple.
2. Gourd and Squash Arrangement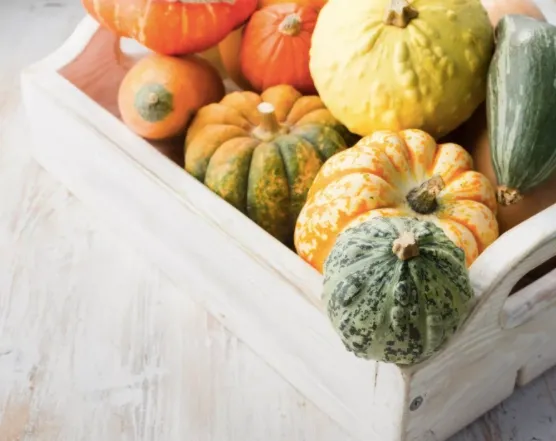 Gather your bounty in a cluster and display it on the patio table. The squash will be fine outdoors until you eat them, and hardy gourds can decorate your outdoor space for months.
3. A Handful of a Garden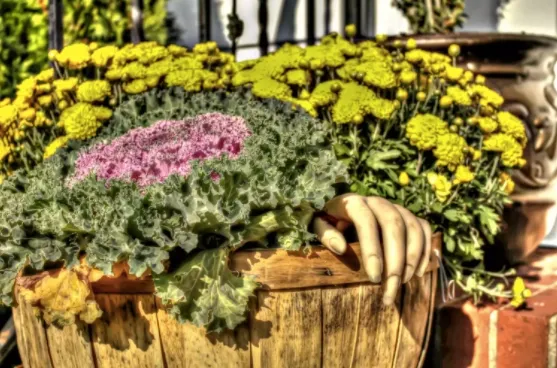 Do you need a hand to help you with fall porch decorations? Get a grip and give visitors a fright with a faux hand clawing its way out of a container garden.
4. Touches of Orange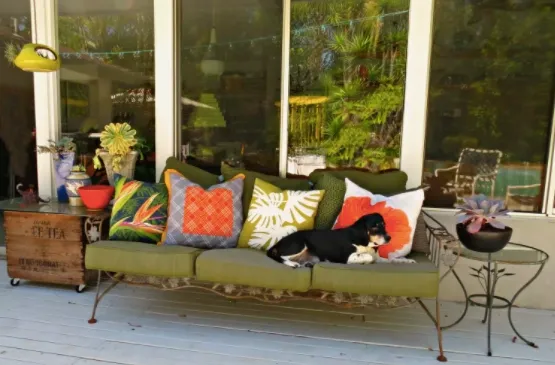 Exchange your summery outdoor pillows and a few accessories for your favorites in fall colors. The olive green cushions of this vintage wrought iron settee s the perfect foundation for brightly colored pillows in assorted autumn prints and patterns. Even the beagle agrees as he finds a cozy place to hang out for a fall afternoon.
5. Magnificent Mums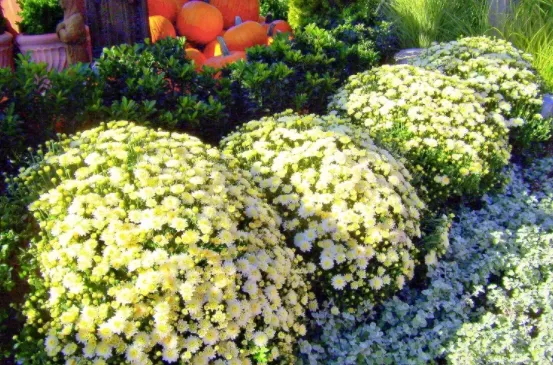 Large mounds of white mums are artfully arranged to make a visual impact in fall gardens. To add curb appeal, use just one color, such as with these creamy white mums. Count on at least four weeks of blooms, but they could possibly last longer if you deadhead spent blooms. Mums will bloom again for another spectacular showing in the spring.
6. Dia de los Muertos Decor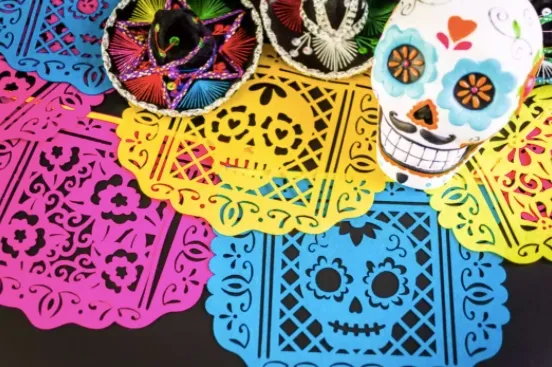 November 1 is Dia de los Muertos, or Day of the Dead, in Mexico and Latin America, and the holiday celebrates dearly departed loved ones on a joyful holiday with bright colors, favorite foods of the deceased, marigolds, skull candies and decorations, and altars. Dia de los Muertos celebrations and decor are becoming frequently seen in the U.S., as well.
7. Planting a Fall Border Garden
This autumn border garden was achieved with planning and research about the chosen plants. Border gardens can be designed with tall plants in the back, mid-sized plants in the middle, and smaller, low-growing specimens in the front at the edge. The plants in this vibrant bed include various Coleus (the front-of-the-border reds), ornamental okra (Abelmoschus esculentus), and red leaf tree fern (Blechnum brasiliense 'crispum').
8. White Pumpkins and Fountain Grass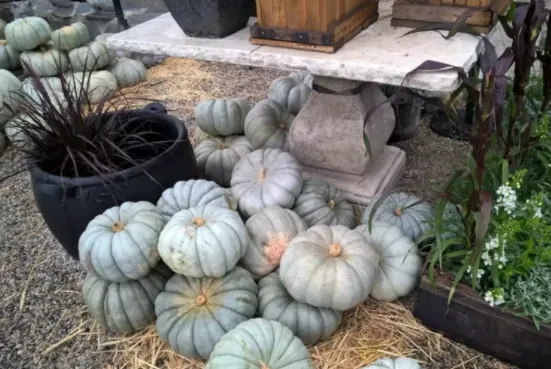 Red or purple fountain grass—Pennisetum setaceum—has become increasingly popular in landscape design in the past decade. It's especially attractive in early autumn when the flowers (their feathers and plumes) are in bloom. Here, a potted small, dark fountain grass is surrounded by unexpected white pumpkins to make a striking vignette. Keep the vignette in October, but simply add Halloween props such as fake spiders, skulls, and crows.
looking for more tips? see the original article HERE
By Lisa Hallett Taylor for The Spruce, 11/03/2020
For more information, contact us here.