Switching around your home decor theme throughout the fall season can be made simple with some quick tricks and tips. After Halloween ends, you can easily create a welcoming and fresh environment for the next holiday. Here are 5 steps on how to transition your home decor from Halloween to Thanksgiving.
Step 1: Remove Spooky Halloween Decorations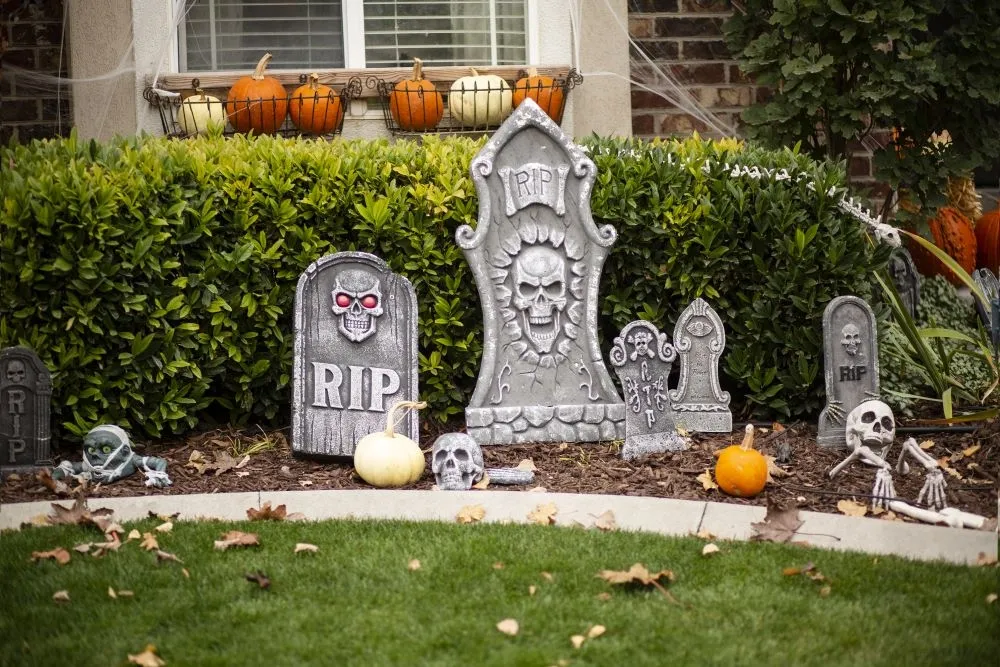 If you're wondering how to transition your home decor from Halloween to Thanksgiving, the first step is to remove any decorations that are strictly Halloween. While your Halloween decor may only be up for a short period of time, not all of it will blend in with a "turkey day" theme. Take down any spooky and scary decorations such as gravestones, skeletons, zombies, witches, and any other Halloween character decor and symbols. Any special Halloween displays should be taken down to prepare for Thanksgiving. Don't forget to put away even the smallest of Halloween accents; it can make a huge difference. Make sure to store all this decor away nicely in labeled storage containers to use for the next year.
Make sure to leave out any of your general fall decorations – the fall season isn't over yet! Keep out your pumpkin decorations, fall foliage, sentiment signs, warm lighting, and any other decor that fits into the harvest season.
Step 2: Rearrange Fall Decor & Add In Extra Harvest Accents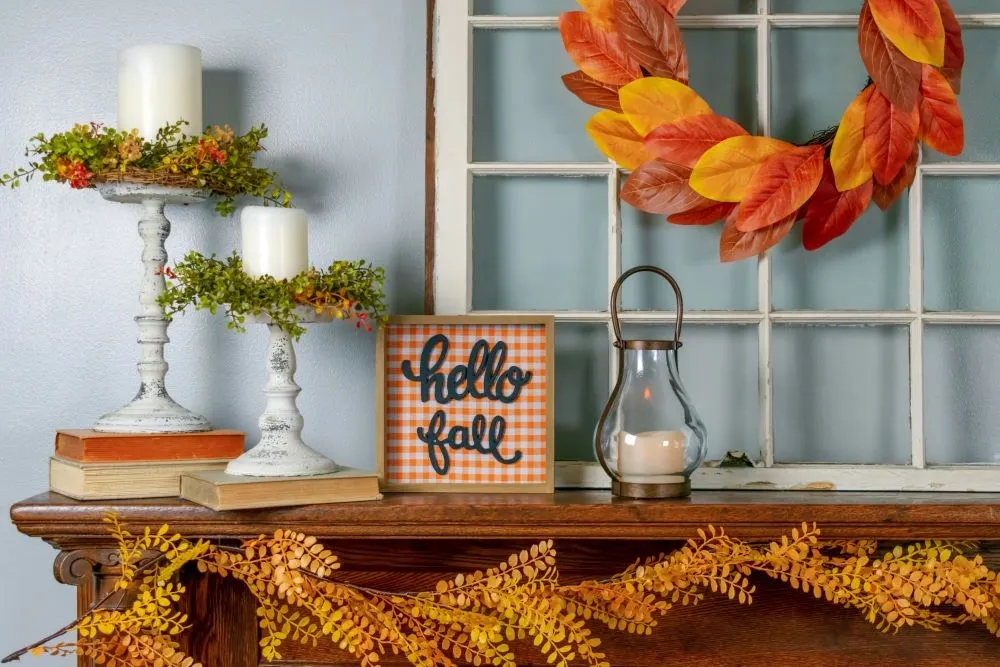 After you've removed all of your Halloween specific decorations, it's time to rearrange your remaining fall decorations as well as add some extra things to make your decor spread feel more full. Rearranging your current fall home decor will make your space feel fresh and give it a slightly different look. Swap your decorations around to different areas of your home to create brand new displays in each room. For instance, take your current mantel spread and move it to your entryway table. Then, take your entryway table decor and arrange it nicely on your mantel. Since you've removed your Halloween decorations, there may be some empty areas that could use some more decorations. Add in extra decorations that fit into the traditional fall theme. This can be as simple as adding in more pumpkin decorations, more harvest themed signs and wall decor, or more vases of fall flowers and foliage. These fall decor additions will help you continue the festive theme into the Thanksgiving holiday.
Step 3: Decorate Rooms With Thanksgiving Sentiments & Symbols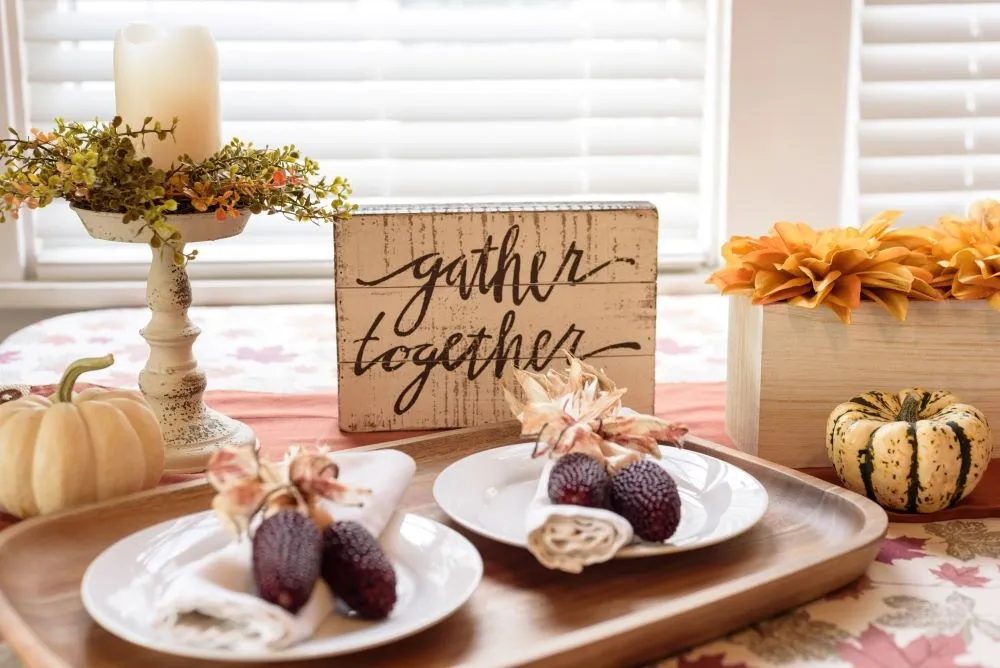 Now that you've amplified the fall decor theme even more, it's time to add some special Thanksgiving elements to your home decor. These holiday specific decorations will not only amplify the upcoming turkey day celebration, but they will also still blend in nicely with your other fall decorations. There are many ways to add Thanksgiving themed decorations to your home. Set up a holiday look with decorative tabletop accents, wall art, faux florals and wreaths, throw pillows and blankets, and other unique decorations.
Festive Thanksgiving Decoration Ideas:
– Signs with sayings such as "gather", "thankful", and "grateful"
– Real or faux gourds displayed on tabletops in addition to pumpkins
– Cornucopias with real or faux flowers and foliage displayed inside
– Decorative accents that contain symbols such as turkeys, corn, and pumpkin pie
Step 4: Set Up Your Dining Table With A Thanksgiving Theme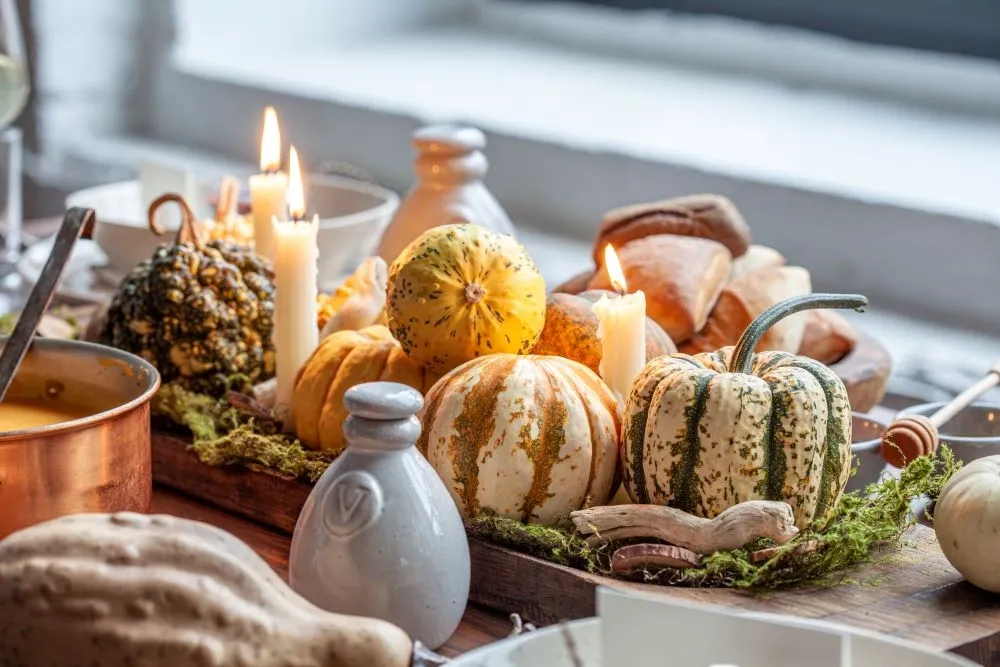 Thanksgiving is all about being grateful for your family and friends by celebrating with a big delicious feast! Decorating your dining table with the turkey day theme can help to fully develop the transition from Halloween to Thanksgiving. Start decorating your dining table fairly soon after Halloween ends. An early Thanksgiving table will help set up a welcoming environment that will last throughout the rest of the fall season. While you don't necessarily need to set up your place settings right away, you can at least add special decorative elements that give off the Thanksgiving theme.
Thanksgiving Dining Table Decor Ideas:
– Create a simple Thanksgiving centerpiece by adding some gourds and pumpkins to a large bowl or wooden box with some tall white candles nearby.
– Add some turkeys to your table through some decorative turkey statues, turkey candle holders, or a turkey box sign.
– Bring some other fall elements to the table by decorating with items such as pine cones, fall foliage, sentiment signs, and other autumn symbols.
– Decorate with a more simple fall theme by adding a vase of real or faux fall flowers in the center of the table.
Step 5: Bring In Some Warm Fall Scents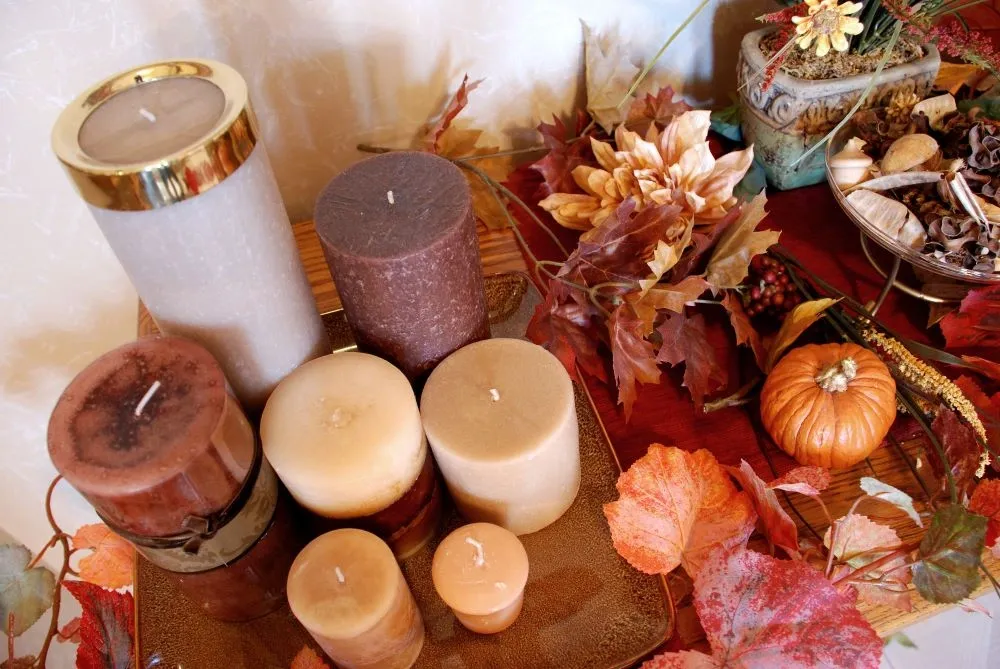 While the majority of your Thanksgiving and fall decor is going to be visual elements, you can't forget about another big element of the harvest season: scents. This can be done mostly through candles of course, but can also be done through potpourri or essential oils. You may already have already placed some fall candles and scented decor around towards the beginning of the fall season, but now's your chance to add extra scents. To further amplify your warm Thanksgiving theme, bring in some specially themed scents to each room. Start with some simple warm fall candles such a cinnamon, warm sugar vanilla, coffee, pumpkin spice, and apples. Then, bring in other scented candles that make you think of Thanksgiving. This can include cranberries, caramel, red wine, ginger, pumpkin pie, sweet cinnamon rolls, and other baked goods scents. Add these scents to your living room, entryway, and other common areas to bring the Thanksgiving theme to fruition.
Original Article Here
By Laura Hayes for LTD lifestyle 9/2/2020
For more information, please contact us here.