Industrial Farmhouse is a popular decorating style that blends both the industrial and farmhouse-inspired home décor trends of recent years. Industrial Farmhouse-style décor balances hard and soft, old and new, and cold and warm finishes, textures, furniture, and décor to create livable, comfortable spaces that are on-trend but have a timeless quality that is rooted in past traditions.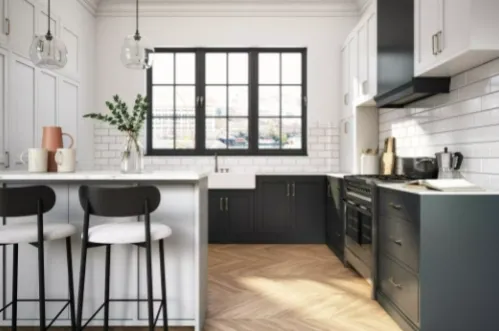 History of Industrial Farmhouse Style
Industrial Farmhouse Style is a modern home décor trend that is rooted in nostalgia for both the agricultural and industrial past. Modern farmhouse style is a somewhat generic take on the farmhouse traditions largely of the U.S. and Europe, popularized in the U.S. by HGTV personalities such as Joanna Gaines, who has built a lifestyle empire around a crowd-pleasing, neo-rustic aesthetic that create a wholesome fantasy of farm life for modern families.
Industrial style is based on the aesthetics of the Industrial Age and has become increasingly fashionable in recent decades as industry began to disappear from cities, and warehouse and factory conversions of homes and offices became synonymous with urban hip and chic.
Modern farmhouse style can skew a little cutesy and twee, while pure industrial can feel cold and sterile. The two styles together create a pleasing balance that explains why they work so well together and remain a mainstream trend.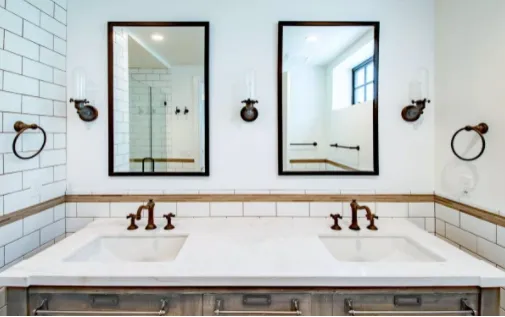 Key Elements of Industrial Farmhouse Style
Industrial Elements
Focus on raw materials such as brick, metal, glass, concrete, and hardwood
Architecture, fixtures, and décor favor simple, strong, clean lines
Architecture may include exposed piping, ductwork, wiring, and structural elements as integral to the overall aesthetic rather than hidden behind drywall
Existing structural elements such as exposed brick walls, rustic wood ceiling beams, large metal-grid windows, or polished concrete floors are preserved and highlighted
Materials are often weathered, distressed, and otherwise worn, with a patina that celebrates their age and provenance
Newer builds without existing features may use reclaimed or new materials designed to look old
Color palette tends to be neutral, in shades of black, white, and gray
Subway tiles are an affordable, ubiquitous feature of both industrial and modern farmhouse design, but finished with dark grout gives them an industrial edge
Fixtures lean toward black metal, oil-rubbed bronze, or copper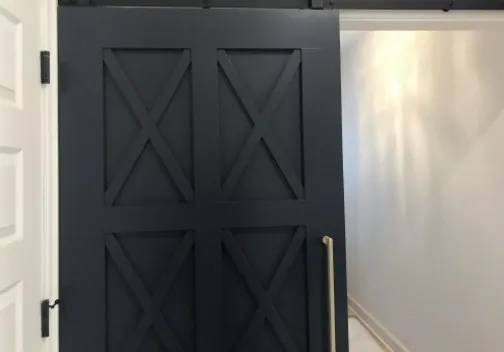 Modern Farmhouse Elements
Modern farmhouse style is largely focused around natural materials such as wood, stone, cotton, rattan, and linen
Neutral color schemes are usually mostly white or neutral shades of cream, beige, or gray
Typical features of modern farmhouse bathrooms and kitchens include white subway tile walls, marble countertops, stainless steel appliances and fixtures, white Shaker-style cabinets, shiplap walls, and farmhouse sinks
Reclaimed, salvaged, and weathered materials and finishes add a sense of history that emulate an authentic farmhouse spirit
Modern farmhouse interiors often feature vintage, antique, or reproduction accessories (i.e., items made to look like they're from a previous era) such as farm signs, wrought iron objects and tools, and decorative kitchen equipment like cake molds or coffee mills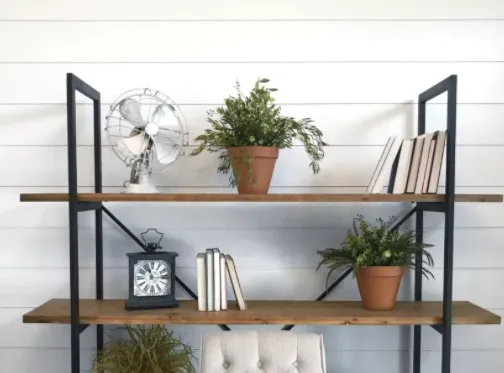 Industrial Farmhouse Style Decorating Tips
The best Industrial Farmhouse-style spaces create a pleasing balance between industrial and farmhouse aesthetics. Fairly minimalist, they have just enough detail to be interesting and comfortable while remaining stylized and pulled together. There are infinite ways to mix and match to achieve that balance, depending on your personal taste and the kind of space you are decorating.
If you've got an industrial-style loft with original character such as exposed brick or piping, adding a rustic oak wide-plank reclaimed wood floor will add instant warmth. A farmhouse sink can add some homey appeal to an industrial space, but think about choosing a concrete or brushed steel finish that will create a link between the two styles. Surround a large rustic wood farm table with industrial French metal Tolix-style chairs to create contrast. Preserve and highlight original features like exposed brick or wooden ceiling beams whenever possible.
To toughen up your modern farmhouse décor scheme, paint your lower cabinets or your barn door matte black. Add dark metal brackets to your wood open shelving. Update stainless steel plumbing fixtures with darker, more weathered looking finishes such as oil-rubbed bronze or black. Install industrial lighting with exposed bulbs such as Edison bulbs, allowing visible wiring to show. Choose reproduction black metal frame windows, partitions, or atelier-style windows to divide spaces as a nod to the industrial past that feels fresh in a modern space.
A few well chosen industrial and farmhouse accessories can drive home the design inspiration without looking kitsch, such as old metal signs, Mason jar vases, woven or metal baskets, vintage hooks, apple or wine crates, and industrial tools and furniture pieces.
While the most successful Industrial Farmhouse designs combine authentic old and new finishes, materials, and décor, the style has become so popular that a range of new industrial and farmhouse-inspired materials and products has flooded the market in recent years. This includes trompe l'oeil tiling rendered in a wood finish; reproductions of antique plumbing fixtures; claw-foot tubs; farmhouse sinks in a variety of materials; tin tiles; and other elements that make the style accessible to anyone at any price point.
Original Article Here
For more information, please contact us here.
by Kristen Hohenadel for The Spruce