We've all been stuck at home for a while now, right? You're either working from home, helping your kids with e-learning, or just binge-watching another show on Netflix. If you're anything like us, you've started to get a little bored of your decor, but you're not sure how to spruce it up. Don't worry; The Blume Group team has you covered! Here are the Nine home trends that we are currently obsessed with:
Kate's Bohemian Picks: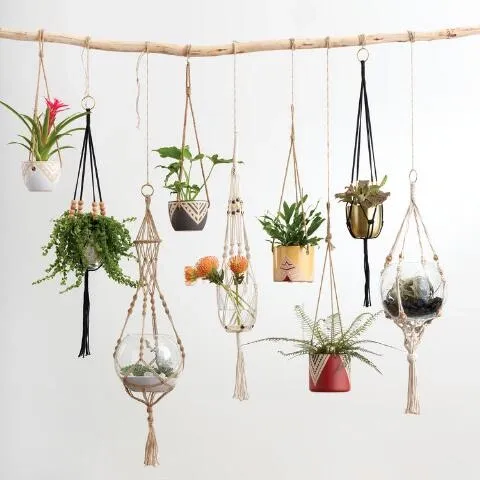 I love having plants in my home, but I am notorious for killing them within a few days. That's why I'm very thankful that fake greenery is "trendy" right now. I have succulents scattered throughout my apartment, but I wanted to bring some attention to the taller parts of my space. Macrame plant hangers are perfect because they are unique and neutral at the same time. Plus, you can get varying lengths and switch out the plants inside whenever you want.
My style is definitely bohemian, and I love incorporating stylish, boho pieces within my home. For example, I have black and white woven throw pillows on my bed with gold sun mirrors hanging above them. Again, it's the perfect mix of neutral colors and statement accessories.
I'm literally always drawn to Earth tones. In my opinion, they bring a sense of calmness to any room, whereas warm colors are bold. My large, tan rug with hints of mint green and pale blue is definitely the focal point of my bedroom. Plus, my light purple throw blanket, mint green lanterns, and a dark chocolate brown dresser to tie it all together.
Lisa's Chic & Cohesive Decor:
Lisa insists on having a pop of color in each room. For example, she has something light blue in each room of her house because, well, it's her favorite color. But also because using one color in each room helps with "the overall flow" of the home. She suggests having a more neutral furniture palette and then adding exciting, colorful accessory pieces throughout.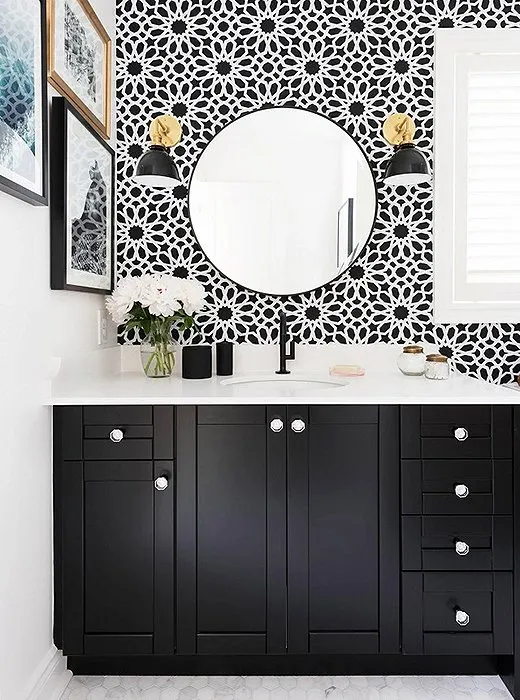 Speaking of fun, vibrant focal points within your house, Lisa suggests adding an element of surprise to your smaller rooms! She loves using printed wallpaper in smaller rooms (especially in bathrooms) because it makes a statement without being too overwhelming, and it makes the space feel bigger.
Lisa likes having greenery in her home too! She likes to buy reasonably priced plants at local businesses or farmer's markets. Adding a succulent fern or orchid to her space makes it feel more fresh and cozy. But more importantly, looking at a unique plant or a pretty flower can instantly boost your mood!
Finally, Lisa utilizes white accessories in her own home and the homes she is selling. White pottery, vases, and lamps can easily brighten up a space and make it appear bigger. Plus, you can find really unique white accessories within any price range!
Sera's Bold Choices: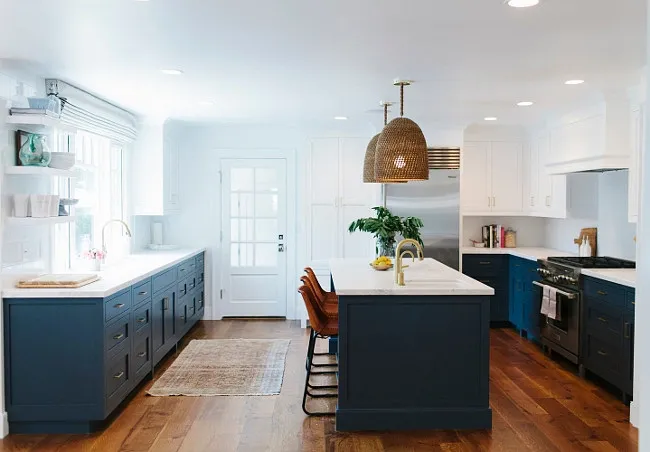 Sera has been obsessed with navy two-tone kitchens! They're trendy right now because they're beautiful, and they can increase your home's value. Plus, making your top cabinets lighter than your bottom cabinets will make your kitchen look more spacious! Sera suggests making your bottom cabinets navy because it makes the space look more elegant and interesting.
Okay, this trend is definitely the coolest one on our list. Wallpaper is making a comeback this year & Sera has a soft spot for tweed wallpaper. Do you know how vintage tweed clothing can make someone look more professional or dapper? Well, now you can make your home look the same way! The subtle texture change on your bedroom, office, or living room wall will instantly become a conversation starter.